Granite Kitchen Countertops – Number One Choice in Kitchen Design
Get Natural Beauty in a Granite Kitchen Countertop – Each Piece of Granite is Unique
Granite is still the number one choice for kitchen countertops, according to the National Association of Home Builders. Natural stone gives granite kitchen countertops a look of elegance, personality, and longevity. A granite kitchen countertop is often one of the few home features that contribute to better resale value.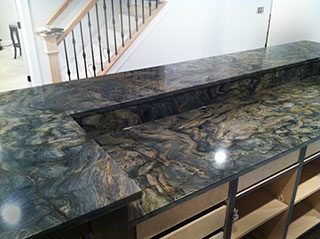 Today, the availability of a wide variety of granite, marble, and other natural stone colors, textures, and patterns offer homeowners many solid surface countertop choices. A granite kitchen countertop can act as a dramatic focal point with creative stone elements of blues, greens, yellows, and veining carved out by rivers of long ago. Granite veining can add a dramatic visual flow to your kitchen. Granite colors can set a tone of feeling. Curved granite kitchen countertops are growing in popularity, which can direct the eye into the feel of a larger kitchen area.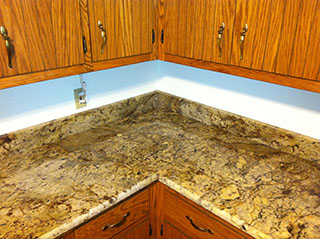 Granite kitchen countertop surfaces are far more naturally beautiful than picking out "earth tones" and a factory made solid surface. Factory made solid surfaces are basically comprised of glue and pressure to achieve a rather mundane kitchen look. You can own a piece of history, as much granite was formed over 4 billion years ago. The addition of a true piece from nature can add a connection to the beauty of the earth, all in the simplicity of a granite kitchen countertop.
See the granite kitchen countertop image for how a natural stone pattern flows from the main area, to the desk, to the bar. This granite kitchen countertop created an expansive look and comforting feel.